THE PORTE ITALIA STORY
Today, the colors and rich decorative traditions of Venice still run in our veins. At Porte Italia, descendants and devotees of the same craftsmen whose original woodwork, painting and design still grace the villas of Palladio and palazzos along Venice's Grand Canal, are once again using furniture, chandeliers, walls, ceilings and doors as their canvas.
Using Venice-inspired colors, finishes and decorations, they are bringing old-world Italian handcrafted design and quality back to the new world order of modern interiors. Courtesy of an American designer, and the Lenarduzzi family who resurrected the art form over 30 years ago. Porte Italia.
Having admired examples of Venetian painted furniture in Europe's finest museums, antique shops and private homes, designer Ann Graham decided to recreate a line of painted furniture, using rescaled frames and traditional painted Chinoiserie finishes and decoration. Her search for a manufacturer led her to the Italian region once famous for creating the originals, and Enrico Lenarduzzi who ultimately launched Porte Italia and became its CEO.
Mr. Lenarduzzi had only to look to his own backyard for the master craftsmen and artists to make it happen.
You see, every region of Italy has its own traditional cottage industry. And for over 400 years, ours has been painting and decoration for the finest homes, villas and palaces in the world. All by hand.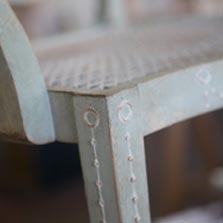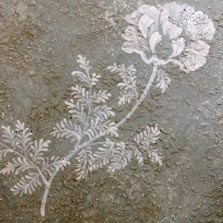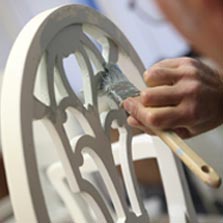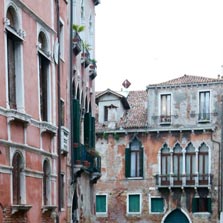 From tiny home studios and paint-perfumed garages, they came. Descendants of the masters. Classically trained graduates of the region's finest art institutes. A legion of talent eager to apply their brushes to the furniture, frescos, ceilings and doors of their forefathers – the kind still on display at Venice's Ca'Rezzonico Museum. The only furniture in the world that sings in fluent Italian.
With Ann Graham's design and our team of local artisans led by Enrico, Emilio and Claudia Lenarduzzi who own and operate the business as a family company today, Porte Italia has launched a Renaissance of its own.

EVERY PROJECT IS A NEW CANVAS, EVERY DESIGN A CUSTOM WORK OF ART.
At Porte Italia, there is no factory. And no two pieces are exactly alike. Because every piece is still built, painted and gracefully aged to look as if it was born in 18th Century Venice.
At the direction of our master decorative painter (whose name, predictably, is Leonardo), each Porte Italia creation is a bespoke masterpiece. Made to the exact custom specifications of designers from Paris, Milan, Dubai, Abu Dhabi, Europe, India, the US and the UK. And often in concert with other Venetian families whose companies have been in business since Marco Polo was a boy.
250-year-old silk and fabric design companies. Murano glass-blowers. Mosaic inlays crafted by ceramic masters who restore the floors, walls and frescos of ancient churches and Roman ruins that punctuate our beautiful countryside.
Our design partners are international icons of the industry. And our customers are royal families, film and music stars, business leaders, politicians, and other celebrities whose names we never disclose.
The only painted furniture in the world still produced in the 18th Century Venetian style.
Porte Italia's exquisite collections of chairs, tables, beds, armoires and their decorations and colors are all inspired by the magical painted surfaces and finishes of old Venice – as well as original works of painted art, frescos and furniture which can now only be seen in Italy's finest museums and private villas.
Art in the form of furniture. Furnishings and frescos painted the same way our ancestors did – in the classic 18th Century Venetian style. For interior design statements on a scale the world has not seen since Venice was the epicenter of trade and culture between Europe, Asia and the Middle East. Porte Italia. For designers looking to make a statement and a name for themselves and their clientele, this is once again the furniture of captains and kings.